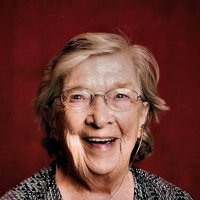 Yvonne Marie Stuart
It is with heavy hearts that we announce the passing of our loving Mom and Nana, Yvonne Marie Stuart (nee Bernard) on June 16, 2020 in her 95th year.
Born and raised in Toronto by Amedee and Charlotte Bernard (nee Traynor), Mom was one of 7 children. A resident of Markham for more than 50 years, Mom worked in retail and some may remember her friendly face from Markham Cycle and Sports, Woolworths and the IDA Pharmacy. She volunteered at the Markham Food Bank and Out of the Cold with St. Patrick's Parish.
While her mind and strength recently declined, her sense of humour did not.
Survived by her son John and wife Helen (nee Czako) and daughter Susan. Nana will be dearly missed by her grandchildren Jay, Samantha and her fiancée (Edward Rhodes). Forever and always in our hearts.
Mom will be laid to rest next to Dad, John George Stuart, at Elmwood Cemetery. Words cannot express our gratitude to current and former staff at Woodhaven especially the PSWs and PNs of Stouffville Village for their kindness and care. Also, a special Thank You to Paul and Ruth for fulfilling Mom's wish to visit the Corktown neighbourhood of her youth.
Funeral Mass will be held at St. Patrick's Parish on Saturday, June 20, 2020 at 11:00 a.m.
Due to COVID-19 we please ask that social distancing rules are respected and masks are worn. Attendance at church may be limited due to the government restrictions.
In lieu of flowers, donations to the Toronto Humane Society or The St. John Canada Foundation's Therapy Dogs Program, for which Yvonne appeared in its promotional video, would be appreciated.