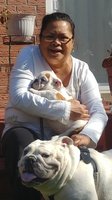 Marie Christine Mandegarian
On Wednesday April 15, 2020, one week before her 55th birthday, Marie Christine Mandegarian passed away to Covid-19 at Scarborough General Hospital. Marie Christine Mandegarian, at the age of 54, fought heroically on the frontlines as a healthcare worker for 31 years at Altamont Nursing Home.
Christine was born in Barotac Nuevo, Iloilo, Philippines. She immigrated to Canada and made Toronto her new home. She is survived by her husband Parviz,; daughter, Janelyne and husband Mathew,; son, Paul and fiancee Rachel,; brother, Abe,; sister, Agnes. She was preceded in death by her parents, Abelardo and Concepcion Bacalocos.
Christine had an enormous love for cooking and gardening. Her enjoyment was her own garden with an array of flowers and vegetables she prized. She loved to host small gatherings in her backyard and loved when people complimented her garden and it was equally matched when people loved her food. She was funny and didn't know it, compassionate, kind, selfless and optimistic. Christine loved her neighbors and her community. She enjoyed going to work, she was so compassionate to her co-workers and the residents which she considered family. Her love of travel with her husband was never stopped by her dialysis. She was a fighter and worked around problems with a smile and determination to overcome. She smiled endlessly and greeted you with open arms. She will be terribly missed.
With much regret our family is unable to gather to hug, hold and cry together to remember Christine due to the COVID-19 Pandemic restrictions. There will be a later date to safely assemble to celebrate her life. Family members and friends will be notified by her daughter and son.
Christine was cremated on Friday April 17th, 2020 by Dixon-Garland Funeral Home. A private Virtual Memorial will be occurring. In lieu of flowers, donations are to be made to Christine's GOFUNDME, to help obtain PPE for healthcare workers at Altamont and other LTC ravaged by COVID-19.