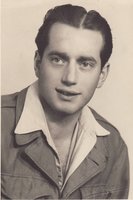 Gerd Otto Fleckeisen
Gerd Otto Fleckeisen
April 21, 1927 - August 27, 2019
Passed away peacefully in his sleep into the warm embrace of his waiting family & friends on Tuesday, August 27th, 2019, in his 92nd year.
Born in Berlin, Germany, he immigrated to Canada as a young man with his new wife, and dreams of a bright future.
He was predeceased by his wife, of 65 years, and survived by his three loving children, Klaus, Claudia, and Iris, beloved granddaughter Emma, and devoted grand-dog Kaylee.
'The tragedy of life is not that it ends so soon, but that we wait so long to begin it.' W.M.Lewis