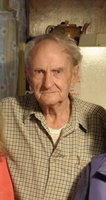 Lloyd Earl Robinson
Lloyd Earl Robinson 1919-2019
With great sadness the family of Lloyd wish to announce his passing on Sunday, August 25/19.
Lloyd was son of the late Will and Lillie Robinson and brother to the late Carl. He grew up in Toronto during the 1920's and 30's. Times were tough. Leaving school early during the depression years he found work as bicycle messenger on Bay St. In 1936 with the help of a neighbor he landed job at Colgate Palmolive. In 1939 with war looming he joined the army but soon transferred to the navy, becoming a wireless telegrapher on the HMCS Amherst. During the ships refit he was assigned to the shore station at Albro Lake. While there the war ended. On returning home from the war in 1945 he resumed his job at Colgate and met his future bride to be Thelma. They married in 1951, bought a house in Toronto. Their first child (the late) Linda was born in 1952 followed by Bill in 1954. Lloyd was a doting father and good provider. He longed for the country life and moved the family to the hamlet of Green River in the late 1960's. There he found his niche. Not only was he able to have a large garden but his ancestral roots were there as well. Lloyd commuted to Toronto until 1986 when he retired. From that point on he spent long days working on his vegetable garden. Sharing its bounty with family and friends. In wintertime, planned next year's crop. Lloyd put his hoe down 10 years ago due to illness. But to family and friends he will always be remembered in his garden.
With the love and support of his wife Thelma, Lloyd lived just weeks short of his 100th birthday.
Thelma and Bill would like to thank their neighbors for the help and support they have given during this sad time.
And especially thanks to nephew Russell who has been there for us and Lloyd every step of the way.
Cremation has taken place and a private Celebration of Life will take place at a later date.
**The family of Lloyd requests no flowers to be sent in his memory