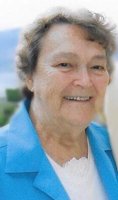 Colleen Ann O'Connor
O'CONNOR, COLLEEN ANN (KENNY) Passed away peacefully May 23, 2019 at Markham Stouffville Hospital. Born March 15, 1933, in Guelph, Ontario, Colleen was married for over 61 years to Terry (Arthur Terence O'Connor). Colleen was predeceased by her daughter Mary Angela and is survived by Karen, Kevin (Laurie), Chris (Heather), Maggie, Mike (Michaela) and Teresa (Todd). Colleen was the loving Nana to Elysia (Andrew), Meghan (Mike), Cameron (Amanda), Bryan, Dalton (Kate), Brittny, Emily, Morgan, Hailey, Katey, Bridget, Rogan, Caroline, Quinn and Connor and was the delighted Great-Nana to Beatrix, Allie, Jackson, Colin, Silas and Charlotte and the aunt to many. Colleen was predeceased by her parents Alexander and Selina Kenny and her brothers Don (late Edna), Stu (late Evelyn), Joe (Diane) and Doug (late Janet) and is survived by brothers Bill (late Florence) and David (late Linda) and sisters Joan Zuwala (late Ches), Margaret Campagnolo (late Para), Cathy and Barbara. Colleen is also predeceased by George, Marguerite, Morgan, Helen, Geraldine and Maurice (Marilyn) O'Connor and Moira Ste. Marie (Ron). She is survived by Patricia and Denis (Ursula) O'Connor.
Colleen attended Loretto Abbey in Guelph and in 1956 graduated from St. Joseph's Nursing School.
Colleen had a beautiful singing voice, was an avid seed collector and gardener and was a renowned baby whisperer. Her touch soothed babies big and small; we will all miss her wonderful hugs. She was a sympathetic listener and a great conversationalist; she almost never failed to twinkle a smile out of everyone she met.
Terry and Colleen made Stouffville their home in 1959 and committed themselves to the community. Colleen was a devoted member of St. Patrick's Parish in Markham and belonged to the CWL and the Society of St. Vincent de Paul for over 60 years. She was a volunteer who worked tirelessly in the background, supporting people and helping where she could without fanfare.
Beloved in her roles as wife, mother, grand and great-grandmother, sister, sister-in-law, aunt and friend, she will be missed by all who were lucky enough to know her.
Those wishing to honour her life are invited to Dixon-Garland Funeral Home (166 Main St N,
Markham) on Monday May 27 from 1pm to 3pm and 7pm to 9pm. Funeral Mass will be held on Tuesday May 28 at St. Patrick's Parish (5633 Hwy 7, Markham) at 10am. Interment at Resurrection Catholic Cemetery (355 Taunton Rd E, Whitby). Donations in Colleen's honour may be made to Canadian Foodgrains Bank.