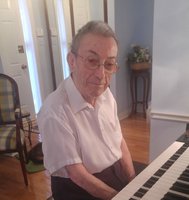 George Wesley Woodcock
George Wesley Woodcock died peacefully at home, surrounded by his family, Shirley, stepdaughter Michele and step-grandaughter Katharine.
Father of Gail (Daryl ϯ), Colleen (Eric), grandfather to Robert, Rachel, and Sarah. Predeceased by his first wife Jessie May, son Robin and granddaughter Jennifer. He will be missed by his longtime friend James Smith.
Memorial service will be held at St. Andrew's United Church, 32 Main Street N. Markham, on Wednesday, May 1, 2019 at 1 p.m. Reception will follow at George's home.