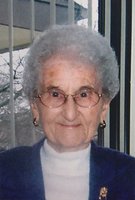 Hilda May Jacklin
Hilda May (Novis) Jacklin.
October 25, 1917 - March 18, 2019
Born Easton, SK. Passed peacefully in her 102nd year. A longtime resident of Markham, ON. Pre-deceased by her devoted husband Earl C. Jacklin (2002), with whom she shared and enjoyed life. Also pre-deceased by sisters Ruby G. Heath (1962), and Edith B. Moyes (2014). Survived by nieces Wilda Campbell, Myrne LaPensee, and nephews Vernon Heath and Brian Moyes.
We wish to note the extraordinary love, care and friendship of Irene Sherrard, who supported Hilda over the last 20 years. Your friendship assured Hilda was secure and comfortable. We wish to acknowledge contributions of staff and friends while at Bethany Manor, Unionville, who provided compassionate friendship, assistance and care. Also, we thank the caring staff at Brookside Court, Richmond Hill, for their welcoming, attentive and palliative care of Hilda. Donations in Hilda's memory can be made to a charity of your choice. A Memorial Service will be held at Grace Anglican Church, 19 Parkway Ave, Markham, on Thursday, March 21, 2:30 p.m., where she had served as a valued volunteer.Interment at a later date at Hope Cemetery, Ottawa.