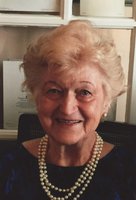 Freda Ellen Ross
With heavy hearts, we mourn the passing of Freda Ellen Ross, on Wednesday, September 27th, 2018, at the age of 84. Freda was born January 18th, 1934, in Seymour Township to Ray and Kathleen McCulloch. She was predeceased by her husband James Ross in 1988. She was the loving mother of Jim, Judy, John (Sheila) and Joanne Coxworth (Brad), the proud grandmother to five grandchildren: Richard Ross (Aggie), Jennifer Poole (David), Hailey Rosenfeld (Tim), Conor Ross and Brent Coxworth (Michelle). Her great-grandchildren, Nathan, Avery, Kurtis, Aleksander and Blake, always put a smile on her face and love in her heart. Freda leaves behind her sisters Betty Ames of Campbellford and Ena Kerr (Den) of Dundas; her close cousin, Gwen Coombs; and her partner, Bob Dahne.
Freda enjoyed the social aspects of life whether it was yoga or pool aerobics at her condo, fine dining with friends, or traveling the world. She felt best when she was able to help others and be there in times of need. All those who met her described her as a lovely lady who always had a smile for everyone and a cheerful laugh. Freda will be greatly missed by family and friends.
A reception will be held at Dixon-Garland Funeral Home, 166 Main St. N., Markham, ON, Wednesday, October 3rd, 2018, from, 2 to 4 pm. For those who wish, memorial contributions can be made to the Cancer unit at Markham Stouffville Hospital.