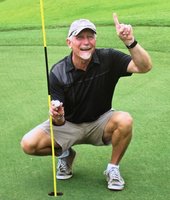 Warren Walter Smith
Smith, Warren Walter, passed away of a sudden heart attack at the age of 66 on Monday, February 5, 2018, while on vacation at the Coronado Golf & Beach Resort in Chame District, Panama. Many caring people made valiant efforts to help but he died at hospital in La Chorrera within hours, with Penny by his side.
Warren leaves behind his beloved wife Penny (nee Sexton) and their children Travis and Andrea, who were the centre of his universe. Warren will be dearly missed by his sister Rosemarie Izzard (Don), her son Jeff Werby (Franny) and many members of his wonderful Smith family.
He will also be lovingly remembered by Penny's family, mother-in-law Dorothy Kennedy, sisters-in-law and brothers-in law Tricia Wettlaufer (Doug), Pam Graham (Dave), Paul Sexton (Ann) and many loving nieces and nephews.
Pre-deceased by his parents Walter (Bud) and Madge Smith, Warren was raised in Woodstock, Ontario where he learned the value of community and developed his love of sports. Warren was a forward with the OHA Super C Champion Navy Vets in 1970-71, a team that earned a spot on the Woodstock Sports Wall of Fame, and was a pitcher with the Navy Vets Junior fastball team of the same era.
Warren graduated from the University of Waterloo with a Bachelor of Applied Science, Chemical Engineering degree in 1976. His well-respected career at Vale Limited (formerly Inco Limited) spanned 35 years, including a five-year term in Barbados. As Global Manager, Nickel Plating & Cobalt, Warren was recognized worldwide by Inco staff, distributors and customers as an expert in the field of nickel electroplating.
Known for his warmth and generous spirit, Warren developed deep friendships wherever he went and many have come forward to let the family know how he personally touched their lives. He was a well-respected coach with the East York Bulldogs and Markham Mariners baseball teams. He also played an active role in Travis's hockey leagues, especially Markham Waxers.
Warren had a love of baseball and was a Rotisserie League owner in one of the founding Toronto fantasy leagues since 1984. He would spend countless hours poring over box scores and advanced analytics, while maintaining a reverence for the game's traditions and rituals and enjoying the simple pleasures of an afternoon at the ballpark.
The family sends heartfelt thanks to friends Blair Campbell and Bob Berry who provided tremendous support to help Penny return home from Panama. Cremation has taken place at the Memorial Leblanc Funeral Home in Panama City.
The family will receive visitors at Angus Glen Golf Club, Victoria Room, 10080 Kennedy Rd., Markham Ontario on Tuesday, February 13 (1 - 3 pm and 6 - 8:30 pm) and Thursday, February 15 (1 - 3 pm and 6 - 8:30 pm).
A Celebration of Life service for Warren Smith will be held on Sunday, March 4 beginning at 2 p.m. at the Angus Glen Golf Club.
If desired, donations to the Dr. Jay Children's Grief Centre would be deeply appreciated. Travis and Andrea would like to support children who lose a parent far too soon.
Condolences may be left at www.dixongarland.com