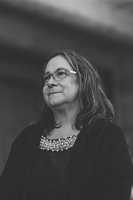 Tandy Elizabeth Solymos
Surrounded by family, Tandy Elizabeth Solymos, passed away peacefully on Friday, February 9th, 2018.
Tandy's memory will remain in the hearts of her husband Peter, their children Kristina (Matt), Erika and Joseph, her sisters Debbie (Dan) and Sue (Rob), predeceased by her parents William and Olive Bain.
Aunt Tandy will also be remembered by her many nieces, nephews, extended family and friends.
The family welcomes you to the celebration of Tandy's life at Dixon Garland Funeral Home (166 Main St North, Markham, Ontario, L3Y 1Y3) on Saturday February 17th, from 11am-3pm.
In lieu of flowers, a donation may be made in Tandy's honour to the Markham Stouffville Hospital or to the Trillium Gift of Life.