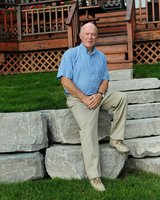 Jack Young
~~Jack passed away peacefully on Saturday, December 2, 2017, from pulmonary fibrosis, in his 79th year, surrounded by his family. He is survived by his wife of 56 years, Sandy (nee Lee); children, Heather Tippin, Nancy Young (Stephen Cudmore), Bruce Young (Betty Ann), and Christie Young (Ian Braby); nine grandchildren, Matt & Amy Tippin, Elspeth & Alison Cudmore, Melissa Micheal & Ryan Young, Sarah & Alex Braby. Jack is also survived by his brother, Jim Young (Florence); sisters, Marg McRoberts and Doris Hodgins; brothers-in-law, Charles Corbett & Bob Coates; and sister-in-law, Lenore Young; as well as many cousins, nieces and nephews. Predeceased by his parents Alex and Isobel Young; brothers, Forrest & Don Young; sisters, Elizabeth Corbett & Elva Coates; and brothers-in-law, Don Hodgins & Ross McRoberts.
Jack is also survived by a large extended family: Jennie Brickenden, Paul Lee (Jill Maynard), and Heidi Byrne. Predeceased by Peggy Spalding (Douglas), Blanche Ehrlich (Gene), Patricia Bourque (Charles), Robin (Carole), Mary Carson (Ross), and brothers-in-law Fred Brickenden & Mike Byrne.
Jack was a husband, dad, grandpa, uncle, engineer, professor, surveyor, mentor and friend. His career in civil engineering, land surveying and academia spanned 40 years. He was very involved in the Ontario Land Surveyor, including as a member of council for many years and served as President in 1988. He was a dedicated volunteer for many causes including the Grace and Speed Museum in Gravenhurst and as a member of the Rotary.
The memorial service for family will be held (following cremation) at Dixon-Garland Funeral Home, 166 Main Street North in Markham on Tuesday, December 5th, 2017. A small reception will immediately follow the service at the Dixon-Garland Funeral Home. We will welcome all who wish to remember Jack to join us in the spring, when we will gather to celebrate his life in style.
Jack was dedicated to his students. In lieu of flowers, donations in his memory may be made to any of the following scholarship funds:
• AOLS (www.aols.org/students/efdonation)
• Gravenhurst Rotary Club (www.gravenhurstrotary.com/online-donations)
• Laurentian University (https://laurentian.ca/give/make-an-impact).